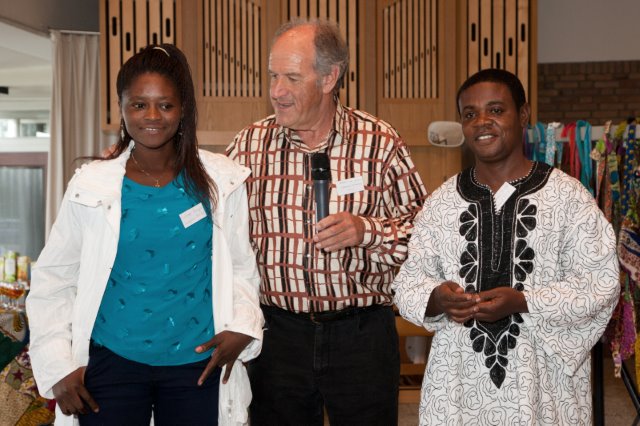 Baffo has been intensively involved in Hand in Hand for about 20 years (!!) now,
first as a driver and a general member of staff, and later on as "Director for Income Generating Projects" (these are e.g. the guesthouses and the internet café). It is already years ago that he became one of the two Ghanaian managers and a member of the Board of the Peace of Christ Foundation, which is the Ghanaian management team of Hand in Hand.
The board of the Dutch foundation of Hand in Hand invited Baffo to visit the Netherlands this year, just like Joe Emma in 2013. This gives both sides the possibility to discuss the long-term policy for PCC "face-to-face". At the same time it is a great opportunity for Baffo to visit various Dutch healthcare facilities for intellectually disabled people, so he will be able to gather more information about modern health care. To Baffo it is a wonderful experience and a great adventure.

The preparations for this trip have taken a lot of time and Baffo has been looking forward to it for long, but on 7th May finally he arrived in Holland. It was not his first trip abroad but it was quite different from his first stay in Europe, which is more than 20 years ago in the mean time.
Baffo was in the Netherlands between the 7th of May and the 6th of June and his trip appears to be a huge success due to both his visits to different healthcare facilities and of course his introduction to the Netherlands. Besides, it was also beneficial for his personal contacts.

Baffo saw things he had never seen before. Also Jeannette and I were looking at the Netherlands with Ghanaian eyes and we are extra proud of our beautiful country: all those clean streets and canals, the wonderful towns and villages, the many fine houses and gardens. No potholes, no police who will stop you without any reason or purpose. But: good public transport, well-organized healthcare and education plus countless fine social facilities. Although the latter are often in the centre of discussion in Dutch politics they seem more or less paradise to a Ghanaian.
Baffo was most impressed by the causeway "through the sea" (between Lelystad and Enkhuizen) and the fact that cars can "simply" drive through tunnels beneath wide rivers.
While talking to someone Baffo expressed it like this: "You probably don't know, but you're living in heaven in the Netherlands!" You had better realize this!

Of course the question why some things are not as well organized in Ghana (yet) as they are in the Netherlands often pops up in our conversations. We then try to explain to him that it has taken the Netherlands also many years (ages) to become what it is nowadays. A good society is not only the responsibility of the government but also of all its citizens. Just a simple example: it is a joint responsibility not to throw your waste into the streets.

Baffo bravely faced the relatively cool weather and the sometimes odd Dutch food, however this does not defy him because he is enjoying the Netherlands with unadulterated pleasure. He did gather impressions and new information, which he will undoubtedly be able to use in PCC, which is exactly the intention!

Miraculously Baffo quite incidentally met twice, while travelling our country, people who appeared to recognize him from their trip through Ghana.
It's a small world indeed.

Baffo-day in Reeuwijk on the 30th of May was a great success. New and old members of the Hand in Hand network in Europe, which is still expanding, met and even Esther Azapa and Lasse, who travelled from Denmark especially for the occasion, were present. It was impressive to notice how many people had taken the trouble to come and greet Baffo and to make him feel welcome in the Netherlands, just like so many of us feel welcome in Ghana over and over again. Hand in Hand crossing borders!
And later on that day became even more special as a result of a very honourable  event. But more about that in the next column of Albert's Corner!