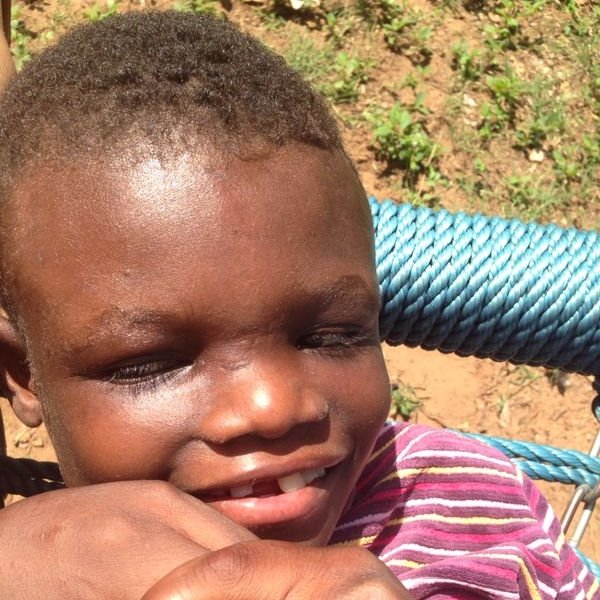 When about 2-year-old Quinten arrived at Hand in Hand 14 years ago,
 he already was a vulnerable and not very healthy boy, he suffered from multiple handicaps and epilepsy as well. It was very difficult for him to communicate with his surroundings because of his bad eyesight and poor hearing. His world was very small because of his low walking ability and little strength. Obviously, Quinten has been a dependent and fragile human being since he came to PCC, in fact since his birth.
This vulnerability made sure that many caregivers and volunteers were much appealed to him whenever they saw him and that is why they were always keen on offering their attention, care and love to Quinten.
Because of his vulnerability Quinten was often weak and would fall ill, he was for instance very susceptible to all sorts of respiratory infections and malaria. And when he was ill, it was very obvious that he had little resilience and that he was very fragile.
He has been hospitalized many times the last few years and each time we were afraid he would not come out, however, each time he turned out to be okay. A few days later back in PCC again he would softly smile at us, sometimes he could even show us the beginning of a dance move and then we would know he felt a little better. These were little but precious moments and happiness would fill PCC: Quinten was all right again!
Then he would be cuddled, cherished and softly sung to, to make him feel how much we loved him. The care given to him by his caregivers like Emma Donkor and later on Michael was tender and full of warmth.
But we knew that things would go wrong eventually, because his limitations were too serious, his condition was too weak and he didn't recuperate easily. We knew for sure that he wouldn't grow old: the question was how long he would be able to persist.
Finally, he had to give up after 16 years of which 14 in PCC. This last summer there were many moments of ever growing worries about his health, each time we wondered: will he live?
On the 16th of September it was his time. That day Quinten gave up the struggle for his life after a new period of illness and hospitalization. He died early that morning and later that day he was buried in the public graveyard of Nkoranza after a short and simple service.
In the eyes of many Quinten's life was by no means an enviable life. He has had to suffer many limitations, illnesses and periods of great weakness. But now an end has come to his worldly life and that is why we have trusted his body to the earth. However, we believe and put our trust in the knowledge that his soul may go up to his Lord and Creator.
Fare well Quinten, it has been good having you live with us for so many years and having been able to care for you in PCC. Your life of small daily delights in PCC, but also a life full of worries and suffering, is over now. However, we believe that you may rest in everlasting Peace in God's sheltering arms. Amen.