An important visitor for PCC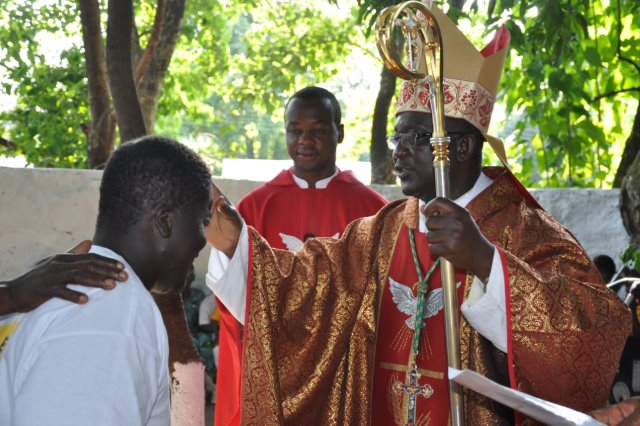 An important visitor came to PCC!
Of course there are many visitors coming to PCC during the year, but never as important as this time.
A short introduction. Our Community is an ecumenical Community, so not connected to one church in particular. But over the years we have established good relations with the RC church, like a monthly mass celebrated in our own open-air church by the Hospital chaplain from Nkoranza. Also all PCC children are baptized over here by various RC priests.
Some time ago we received the rather surprising message that the Bishop from Techiman, Most Rev. Dominic Yeboah-Nyarko whom I visited once more than a year ago, would like to come and visit PCC. He was also prepared to give Confirmation to all interested PCC youngsters and caregivers during his visit. In Ghana Confirmation is mainly received by people from 18 years and above.
We wholeheartedly said Yes to this proposal and agreed that the Bishop would visit us on Tuesday at 4 PM, first for a tour over the PCC compound and after that for Mass and Confirmation at 4.30 PM.
On Tuesday morning the whole compound was cleaned thoroughly, even all leaves were removed from the roofs! It seems that when a Bishop comes to your place everything has to be neater than neat.
We were quite surprised getting a message at 2 PM that the Bishop was ready to come to our compound….! In Ghana we are used to all kind of surprises when it comes to appointments made, but we never experience that people arrive 2 hours before scheduled time……! At this early hour not everyone is ready for the occasion. The children are still sleeping in the siesta room and many caregivers are still on the market during break time. But we managed to spin out the official reception and the PCC compumd tour for the Bishop in such a way that at the end everyone was in time for the Mass and the Confirmation.
Normally our children are already rather quiet during the monthly Mass, but today they are more quiet than ever before, being so much impressed by the showing off from the Bishop. He indeed looks like a real Bishop with his impressive statue and a splendid robe.  
For as much as 13 of our young adults and 4 caregivers this church service is very special indeed, among others Kofi Asare, Dela, Paa Yaw, Kojo Evans, Kwame Evans and Zachariah. They all are dressed in white, for they are the ones going for their Confirmation.
After a short sermon about God's Spirit being more powerful than all evil spirits finally the moment is there. They are all invited to come forward one by one to receive the blessing of the Bishop and the Holy Cross, given with sacred oil on their forehead.
There was some confusion with some of the names, for names given during baptism are often a bit different than names of our residents in daily life, but this is solved soon.
All 17 agree in front of the Bishop with their Confirmation and they have now made the step to full membership of the RC church.
After that the bishop gives a bag full of strong and beautiful rosaries for all PCC residents, making it a wonderful day for all. Not in the least for the RC church itself, as this church got a number of great personalities as new members today!
On behalf of PCC the Bishop received some yams and pineapples, that seems to be customary. Well, a Bishop also needs to eat, isn't it?
At the end everyone is happy: the Bishop who made very clear that he was really impressed by all that is done and happening in PCC and all of us, who are glad that a Church leader came down from his Bishop seat to PCC to show everybody (there are many interested people from outside PCC joining the ceremony) that our residents are also part of the church and the Ghanaian society, just like everyone else. They are also children of God!
It was a unique day for blessed people, Hallelujah!