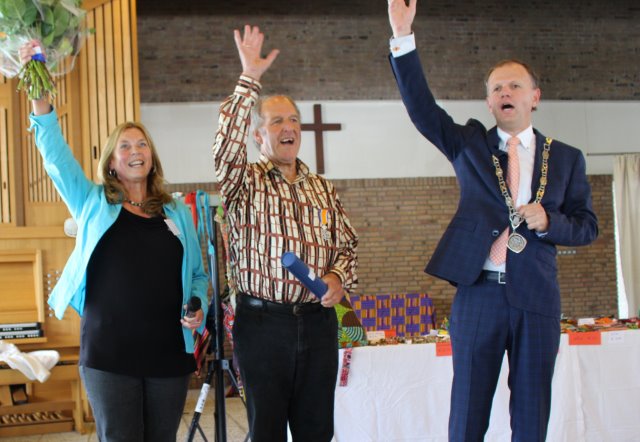 Today a special column in Albert's Corner by our guest writer Jeannette

because this story will mainly relate about Albert himself!

In the latest AC Albert has extensively written about Baffo's very successful stay in the Netherlands and the pleasant gathering of Baffo and many old and new acquaintances during the wonderful Baffo-day in Reeuwijk on the 30th of May.
That particular Saturday had already been going on for a few very sociable hours – around three o'clock Baffo had addressed and thanked everyone present for his or her attendance, and it would be very sociable for many hours to come, when soon after Baffo's speech the focus was suddenly shifted away in another but exceptionally festive direction.

At three o'clock the mayor of Bodegraven-Reeuwijk quite unexpectedly (i.e. to Albert! … and nearly all other guests present) stepped into the church hall of De Ark. At that precise moment Albert's attention was being drawn away from the stage – not unintentionally – that is why it completely escaped his notice. Next the mayor cordially addressed the audience and still it was not clear what exactly had brought him to De Ark. He was standing there dressed in a fabulous Ghanaian regal robe (Kente Cloth) draped around his shoulders and he was speaking laudatory words on the behalf of áll volunteers of Hand in Hand.
Then slowly his speech became more personal. First towards Albert as well as myself, but later he was only directing himself to Albert. He spoke warm and praising words especially about Albert's yearlong and intensive work as a volunteer in many fields: for the Dutch and local (i.e. Reeuwijk) society, his international work and of course his work for PCC-Hand in Hand. The mayor seemed to be interviewing Albert, which made it all very lively and much fun.
When he, finally, dropped the Ghanaian robe and appeared to be wearing his insignia ánd went on about all of Albert's merits, it became clear to many (and meanwhile to Albert himself as well) what this might be leading to … Perhaps an order?!?


All in all, it was a great surprise that the mayor announced that the King had decreed to make Albert a Knight / Companion in the Order of Oranje Nassau. The only thing Albert could do at that moment was to quietly accept the applause and all appreciative words and humbly bend his head. What can you say at such a moment?
I felt really great standing next to Albert at this very festive moment and so did our granddaughter Jasmijn, because she came crawling onto the stage to share this warm bath together with her Granddad!

It was clear to everyone at the Baffo-day that keeping this very honourable knighthood a secret to Albert had been a great success. Suddenly many people from outside the Hand in Hand network also appeared from behind the scenes, apparently they wanted to be present at this festive and deserving moment (so they had been informed about this occasion!).
Thus said, it was a very sociable afternoon during Baffo-day, but because of this it became even more festive and special.

Albert has been knighted ánd this happened in the church building of de Ark in Reeuwijk ánd during a day full of wonderful celebrations concerning Hand in Hand: these are both organizations he is much inspired by, it really could not have been better!

On behalf of all of the PCC – Hand in Hand network in Ghana and in Europe we would like to congratulate Albert on this wonderful Royal Order. We would also like to emphasize like many others: you deserve it!
From now on Albert will be "Sir Albert" and we do not doubt it in the least bit that he will be doing his voluntary work as enthusiastically in the future as he did before: Noblesse oblige!