A wonderful new home, still without a name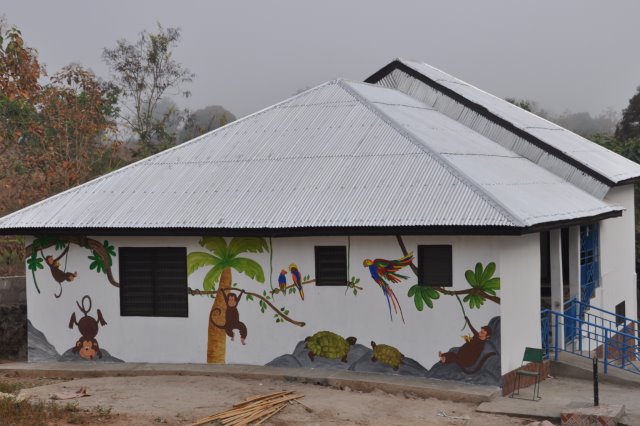 Sometimes we are really amazed at how many Ghanaians can travel together in a small car
and sometimes at how many people are able to sleep together in one small room. For Ghanaians it is no big deal, they are sitting on each other's lap without a problem and they have been used to sleeping together with many relatives in one room from early youth.

In PCC also more people sleep in one bedroom: 1 caregiver together with 2 or 3 children. This doesn't only have to do with the caregiver's role (that of a substitute father or mother) but also with good supervision during night-time. It is also the way in which the caregivers themselves have been raised, so it is all very familiar to them.

Thus we need more rooms when the number of children in PCC keeps increasing like it did last year when we welcomed 7 new residents. That is why we regularly build new houses, although we also realize that there is an end to the number of children we can offer a warm and safe place in PCC.

Last year I already wrote about the G8 from Groningen, who came in October to help us building a new house. In the mean time this house has been completed! And it has become the most wonderful ànd spacious house of the whole PCC compound! These 3 rooms are bigger than the rooms in the other houses  because the children are also growing slowly but surely over here, so often more than 2 beds will be needed in one room in the future.

The house is built on a slope and that is why there is a considerable difference in height. One room is situated higher than the other two and it even has a small balcony from which one has a superb view of the surroundings.
Two roomy, extra pantries – Baffo's idea! – are situated beneath, such pantries always come in handy in a Community like ours! Joyce is very happy with her new store with clothes for the children!

In short, a fabulous asset to our Community! The caregivers who have been here for a longer period of time are all queuing up to move to that particular house! That is all right, because other rooms will be vacated then and so the new house is already fully occupied to the great satisfaction of its new residents.
The house is opposite the likewise beautiful Butterfly house and together with this house it forms a small "hamlet" near the Volunteers house.
New houses do not appear out of thin air in PCC and that is why we are very grateful for the G8's tremendous constructional and financial support, which made it possible for us to build this wonderful home. Through the years G8 have shown to be a great and loyal friend of PCC, fantastic! And especially for the people from Groningen: according to me this house is completely earthquake-proof!

When the "Ghana ladies" from the Netherlands were visiting recently they painted – under the direction of Mary, a beautiful and colourful mural on one of the sidewalls of the new house, making it even more wonderful! A joy to behold!

The mural consists of trees, monkeys, parrots and turtles and we will have to think of name for this new house. Maybe it is a fun idea to decide on its name via a name-giving contest or a prize draw? Should it become the "Mighty Jungle" or….. ?
Good ideas and suggestions are welcome via our Guestbook on our website till the end of February! How thrilling!
The winner of this name-giving contest will receive a free diner for two in our restaurant!