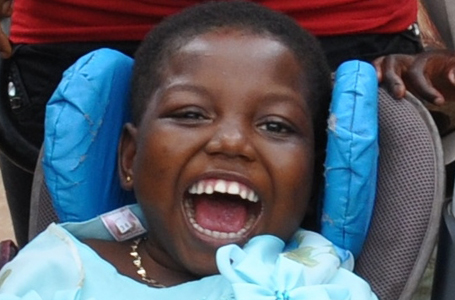 Born: 2000; Died: April 2018.
Lisa has lived in the Hand in Hand community since the beginning of December 2004. She comes from the orphanage in Kumasi. Lisa's muscles hardly seem to work, in fact she is almost completely paralyzed. She is not able to stand on her weak legs and her neck muscles do not function, so her head constantly falls backwards or to the side. Fortunately her arms muscles are somewhat stronger. Every day Lisa get exercises to make her muscles stronger. During the day, Lisa is a happy girl and she almost always smiles. She has a beautiful smile and bright big eyes. Lisa loves floating in the pool. By moving her legs she can even move a little in the pool, something she enjoys very much. Lisa is afraid of the dark so from time to time she starts crying at night. She also cries when she has finished her plate for it seems she is forever hungry. Lisa, who can eat plate after plate after plate of rice is still little, but nice and chubby by now!
In April 2014 our dear Lisa died rather suddenly, after a short illness.
May she rest in perfect and eternal peace.