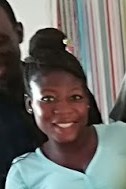 Today, on February 20, 2018, PCC is in deep mourning after the untimely death of our dear sister HAGAR KWASI. 

Hagar joined PCC as a caregiver in 2016 and  since then took care of our children Kwabena Tewiah and Theresa, later of Theresa and Sara.
She was a good caregiver and we all loved her for her friendly and modest personality as well as for her good and appreciated contribution to PCC, also remembering how well she did when working in the sheltered workshop.

She felt sick last week having serious abdominal pains and was seen in the Hospital and the Health Clinic. Later, when the pains became worse, she was admitted in the Hospital last Saturday, 17th February. However, despite treatment including receiving about 5 pints of blood her situation deteriorated.
Today she fell in shock and died soon after that, leaving everyone in deep mourning.

Our thoughts and prayers are with her family and friends and with everyone in PCC where all residents, workers and the Board are grieving after Hagar's sudden death.
May her soul rest in Peace and may the Almighty God and all angels welcome and embrace her in Heaven.