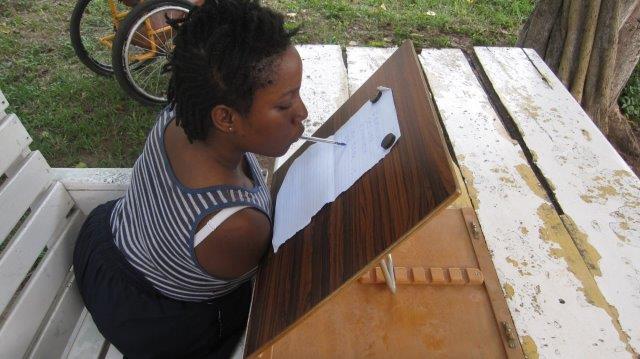 PCC still going strong
Biblical scenes in PCC
We all know the Biblical story of Jesus who says that the temple of God will be destroyed and rebuilt in three days (Matthew 26:61). Something similar happened in PCC the other day when one of the walls of the open-air church of PCC threatened to tumble down. The old and bent wall had too little support and started to stoop dangerously.
That is why we decided to break down the wall entirely and look, three days later there it was: the resurrection of a new and much sturdier wall…..
Charles has left
After more than 15 years of active involvement in the sheltered workshop, the always friendly, smiling and sporty Charles has said goodbye to us with his father's consent. His farewell party was a festive occasion in PCC-style, during which his father expressed his gratitude for the way Charles had been given the chance to develop his skills in the sheltered workshop as well as in PCC. We wish Charles the very best for the future.
Tree planting Day in Ghana
Ananse, our befriended German charity, proposed a very good idea to us: would it be possible to organize an Arbor Day in PCC?
Together with the organisation Green Ghana we transformed this idea into positive action last July. In one day over 100 new and young trees were planted in several places within our compound!
Our residents have actively participated, during Arbor Day they were extremely interested and fully involved in the actual planting. And they still are enthusiastically supportive because, of course, young trees need a lot of water besides protective fencing, in case the goats and donkeys will voraciously eat the newly planted trees…
New Daycare in Donkro Nkwanta!
We have been running a Daycare outside of PCC in the village of Donkro Nkwanta in the Nkoranza District for some years now. We are temporarily accommodated there, but in the meantime giant steps are being made in the direction of a more permanent housing. We have acquired a piece of land where we are planning to privately build a new and own building for our Daycare.
We are very grateful and much pleased that meanwhile we have received enough financial means to start building a new Daycare in this village. Let's get started!
Some charming pictures of a few residents
The best thing about walking around PCC is, of course, that you may unexpectedly bump into our residents. And if you are lucky, you will be able to shoot some fun pictures, for instance one of Sadat who is carrying a lion or Tettey and Kwaku Chairman actively playing the drums or Lizzy who is lovingly watching over little Solomon and Emmanuella who is working at the slanting magnetic board.
Eventually that is what it is all about: putting a smile on the faces of all residents, noticing that these young people are enjoying their lives and that they are learning to cope with their disabilities.
Many thanks to all who make this possible year after year!